Science Center News: Our weather station is powered by a state of the art Rainwise MK-III
wireless weather system.

Visit the Friends of Ockanickon Science Center page to support the Science Center.

New FEATURES added to this page: 4-Part Forecast and Weather Maps and Time Lapse Video!

For information about our WebCams and how they work, visit our WebCam FAQ page.

The Science Center announces its OBSERVATORY project.
Visit the Friends of Ockanickon Science Center page to find out more.

Current Weather from the Science Center can be viewed on your web-enabled cell phone.
Click HERE for instructions on how to access the Science Center's WAP WML site.
See pictures of the "Space Wing" addition taking shape (2001)




Current Weather Conditions
Updated Every 5 Minutes
(You may need to use your browser's REFRESH button to see the latest update)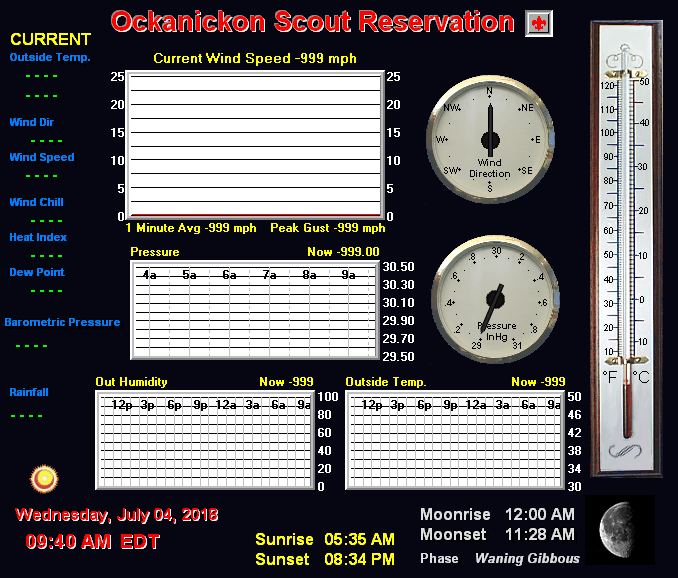 CLICK HERE for a summary report of the past 24 hours' weather

---
Regional Weather and Sky Conditions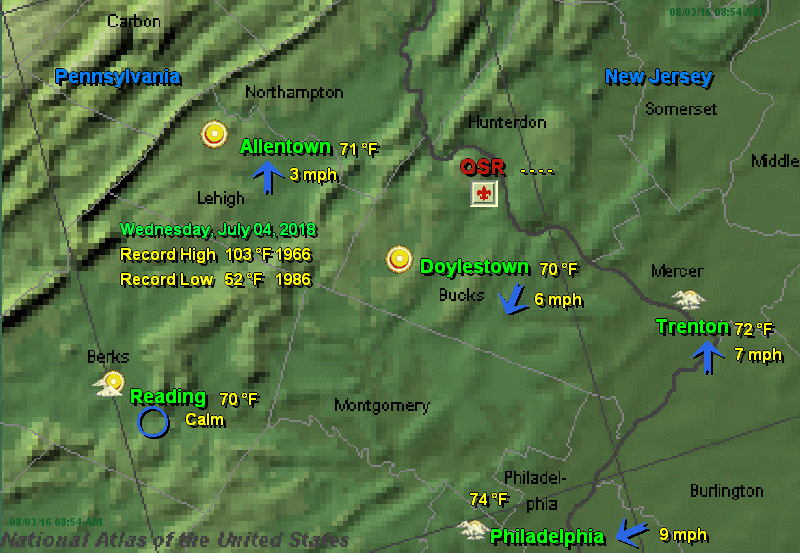 CLICK HERE
for the past hour's
WIND DATA
---
Forecast from Ockanickon Science Center
Radar, Satellite and Surface Analysis
The Mixed Surface Analysis map is a virtual comprehensive analysis of current conditions and fronts at ground level using radar and infrared satellite imagery. The Surface Analysis loop animation shows sequential maps at 3 hour intervals for the past 18 hours. A surface weather analysis is a special type of weather map providing a view of weather elements from ground-based weather stations over a geographical area. Weather maps are created by plotting or tracing weather information such as sea level pressure, temperature and cloud cover onto a geographical map to find features such as weather fronts.

The Ockanickon Scout Reservation's Science Center is supported by GE (formerly Betz and BetzDearborn, now GE Water and Process Technologies). The Weather Station supports and enhances Weather Merit Badge, one of the many science and technology merit badges offered through the Science Center's program.

For questions about the Weather Station, Science Center Programs, or this web page, please contact James Moyer, Associate Director, GE Science Center at Ockanickon Scout Reservation. For questions about the WeatherCam, visit our WebCam FAQ page. For information on how to receive the Science Center's Current Conditions on your cell phone, visit our WAP WML FAQ page.
You Are Visitor
bmaa home

BMAA HOME